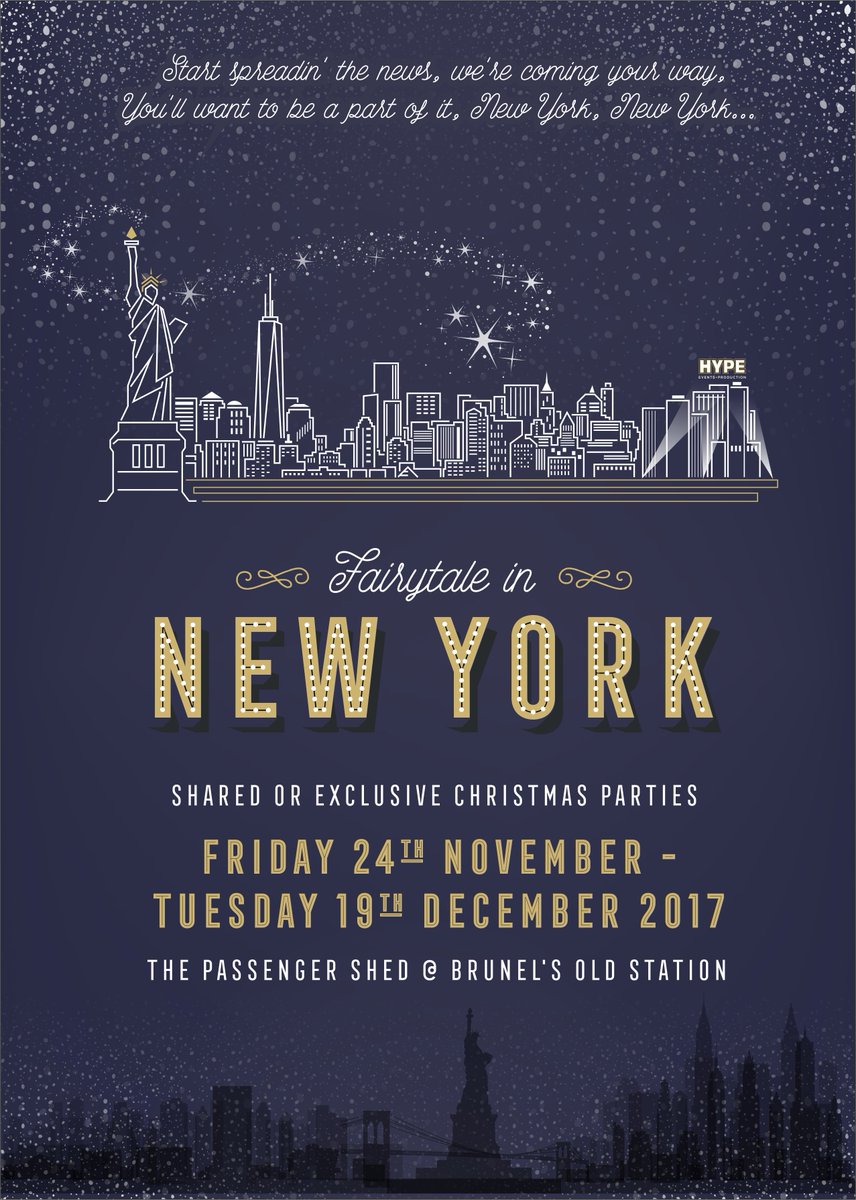 'Fairytale in New York'
Snowy trees, starry skylines, magic in the air…let us transport you to our Fairy-tale in New York for a truly spectacular Christmas party.
Feel like a star as you step onto the sidewalk and take in the sights and sounds of Manhattan at Christmas. Whilst sipping a seasonal cocktail take a stroll down 5th Avenue, leave your snowy footprints as you wander through central park and gaze at the twinkling lights of the Rockefeller tree.
As the Grand Central clock chimes, you'll find your glistening table awaits. Enjoy a mouth watering meal under the starry skies of New York , carefully created by our in-house caterers Fosters.
In a city that never sleeps, be wowed by the performances bought to you from the bright lights of Broadway. Expect glamour, razzmatazz, toe tapping routines and show stopping entertainment.
After dinner, head to Times Square and pay a visit to the Hard Rock Café. Whether you want to hang at the bar sipping a an Old fashioned or play a game of bowls, it'll be THE place to be into the small hours…
Starter
Central Park sweetcorn chowder, chives and mini bagels
(vv) gluten free bagel and dairy free chowder
Main
BBQ marinated chicken breast, smoked whipped potato, maple glazed parsnip and roasting juices
(vv) Roasted butternut squash, curly kale & leek parcel, crushed herb new potatoes & maple glazed parsnip, served with red wine syrup.
*Served with sharing bowls of seasonal vegetables dressed in garlic infused rapeseed oil
Dessert
'The Big Apple'
Apple mousse, butterscotch sauce and toffee popcorn
(vv) Apple crumble cake, toffee sauce &popcorn
Itinerary
19:30 - Doors open. Enjoy a sparkling wine reception,
20:15 - Call for Dinner
20:30 - Fantastic Themed Sit down Meal
21:45 - Disco Begins
22.00 - Photo Booth and Hard Rock Cafe opens!
00:45 - Last orders at the bar
01:00 - Carriages
*Minimum number for a booking is 8 guests.
Location: Bristol Venue: Brunel's Old Station Capacity: 650